LEGAL LOCK JOURNAL ISSN no. [2583-0384] is open access, peer-reviewed, quarterly published e-journal which provides a platform to express views on topical legal issues, thereby generating a cross-current of ideas on emerging matters. This platform shall also ignite the initiative and desire of young law students to contribute to the field of law.
The erudite response of legal luminaries shall be solicited to enable readers to explore challenges that lie before lawmakers, lawyers and the society at large, in the event of the ever-changing social, economic and technological scenario.
LEGAL LOCK JOURNAL is calling for unique and unpublished research papers, Short Notes, Book Reviews & Case Comments, for VOLUME 2 ISSUE 2.
Submissions on Rolling Basis
Authors Will Be Provided:
A Soft copy of the Certificate of Publication.
Rs 150/- for the hard copy of the certificate.(plus any extra charges, if any)
Theme:
Any appropriate theme related to any legal aspect is acceptable.
Publication Details
The fee is to be paid after acceptance of the manuscript.
Rs. 900 for a Single Authored manuscript
Rs. 1300 for Co-authored manuscripts (Max. 2, including the author)
Rs. 1800 for 3 authored manuscripts (Max. 3, including the author)
Guidelines:
• The manuscript should be in MS Word format, submission in any other format will not be accepted.
• The title of the manuscript should be appropriate and in a concise manner.
• The manuscript shall be original and unpublished.
• The submission should not be plagiarized, and free from grammatical, spelling, and other errors.
• Full name of all the author(s) must be given.
• Any uniform method for citation should be followed. (Bluebook 20th ed.)
• The body of the manuscript shall be in Times New Roman, font size 12, 1.5 line spacing. Footnotes should be in Times New Roman, size 10 single line spacing
• A margin of 4 cm shall be left on all sides of the paper.
• Page borders shall not be used.
Mode of Payment – Gpay/Paytm/NEFT
Gpay/Paytm – 9997113838, Varun Agarwal
NEFT:
Account Name: Varun Agarwal
Account Number: 39728739286
IFSC: SBIN0000682
Branch: Civil Lines, Moradabad, UP – 244001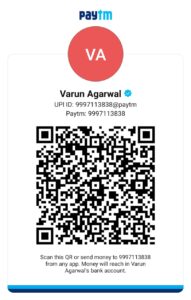 Word Limits
• Articles (3000-5000 words including footnotes)
• Short Notes (2000-3000 words including footnotes)
• Book Reviews (1000-2000 words including footnotes)
• Case Commentaries (1000-2000 words including footnotes)
Contact
Varun Agrawal
Phone / Whatsapp: +91 9997113838, 91+ 7247883885
Email: legallockjournal@gmail.com
To Submit
Click here to submit your paper
or
MAIL US YOUR PAPER AT: legallockjournal